Please go to Members Only and click "Annual Elections" for details on this year's BOD candidates.
<!memuBtns>
---
Introduction
S ✯ M ✯ A ✯ R ✯ T brings military veterans, and their families together to share camaraderie, travel, camping, and support to our veterans. All active, retired, and honorably discharged veterans from U.S. and Canadian Armed Forces, interested in recreational travel, and sharing the camaraderie developed in the military are welcome. This includes; Reserve, National Guard, Air National Guard, Coast Guard, and also USPHS, and NOAA.
Who's A Veteran? - A veteran, as defined by federal law, moral code and military service is; "Any person who served for any length of time in any military service branch." Although not military veterans, we also invite veterans of commissioned service in NOAA and USPHS to join as well.
Emphasis on serving Veterans - We have chapters for full-timers, golfers, and for members who just like to travel. Married or single, owning a motorhome, travel trailer, 5th wheel, truck camper, or pop-up, our chapters offer activities to include: simple pleasures such as playing games, socializing, sharing potluck meals on weekend camp-outs, and monthly luncheons; to involvement in community activities, and volunteering at Veterans' Homes and Hospitals. Members volunteer and participate in Habitat for Humanity, the Marine Corps' Toys for Tots, Sew Much Comfort, and others.
RV Caravans Across America - RV Caravans are another unique aspect of SMART RVing. Experienced members, called Wagon Masters, lead RV Caravans to many exciting places, such as Alaska, New England, Southwest, and many more. SMART RVing boasts the "best" prices in the RV travel industry. Visit our RV Caravans page to learn more.
Join SMART RVing - You may join online using PayPal or print and mail a written
application along with your check. Please choose your preference below.
<!introduction>
<!announcements>
SMART Chapter Quick Links By Region
The region buttons below are links to the region's home page and they display a dropdown menu with links to each of the chapters in the region.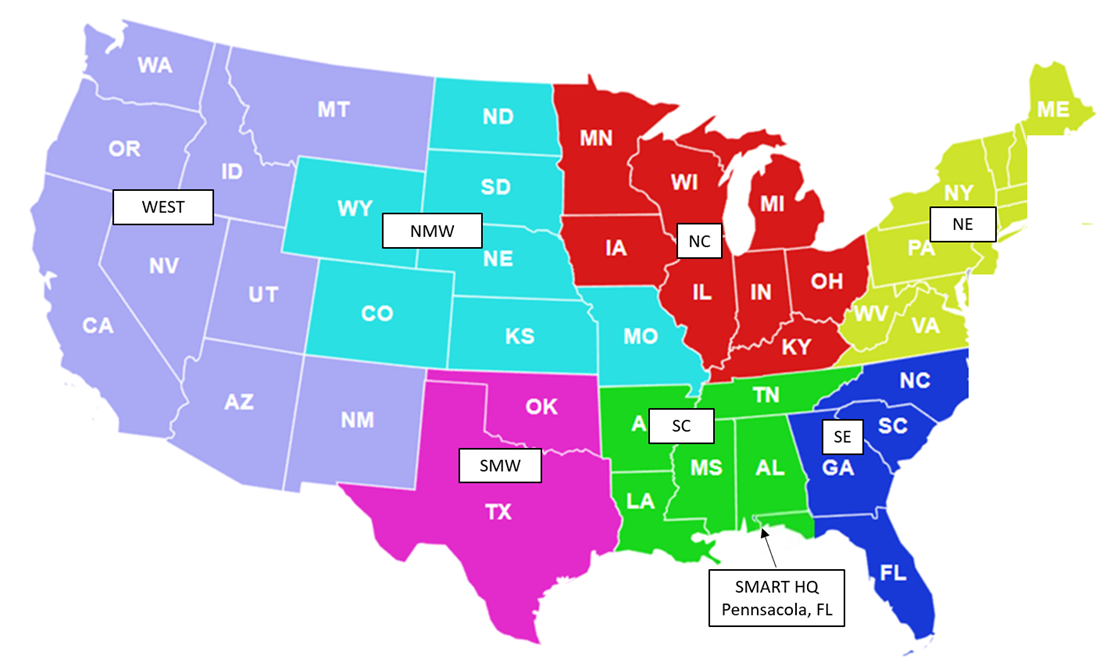 <!chapterlinks>
---
Our Musters (Rallies)
A calendar of our Musters and Events.
Get to know us by coming as a guest to one of our musters. Activities include golf, hiking, sightseeing, playing indoor and outdoor games, dining out, pot luck dinners, and just having a good time together.
The links below will provide information on the upcoming national and region musters; or click on the 'All SMART Events' button for chapter musters that may be in your area or along your route of travel. Come share the fun and fellowship with veterans from all branches of the Service. Contact the muster host for more information.
---
<! Display National and Region Musters>
National Muster
Our next National Muster will begin on September 25, 2018 in Mineola, TX. Please click here for dates/contact info.
---
Region Musters
Our next Muster begins on June 12, 2018 in Jonestown, PA. Please click here for dates/contact info.
Our next Muster begins on May 3, 2018 in Durant, OK. Please click here for dates/contact info.
Our next Muster begins on May 18, 2018 in Sorrento, FL. Please click here for dates/contact info.
<!musters>
---
<!newsletters>
---
Contact National Headquarters
Thank you for visiting our website. We encourage you to contact Melissa Wade, Executive Manager, or Phyllis Enfinger, Administrative Assistant, for additional information. Our office hours are Monday through Thursday, 8AM - 4PM central time. You may contact us by phone at (850) 478-1986 or toll free at (800) 354-7681.
Mailing Address:
SMART Headquarters
600 University Office Blvd. Suite 1-A
Pensacola, FL 32504
<!contactUs>

<!mainbody>